Up to $100 Mail-In Rebate
with purchase of 2 or more different
qualifying Nest and works with
Nest products
offer valid until July 31, 2019
Your smart home shouldn't be dumb. When products work with Nest, you don't have to tell them how to connect. Or what to do. They just work. In real homes for real people. Just look for the Works with Nest logo. Today a ton of brands you already use connect to Nest, like your Philips Hue lights and Whirlpool washer. And more are coming every day.
CATEGORIES IN THIS REBATE
Google
Philips Hue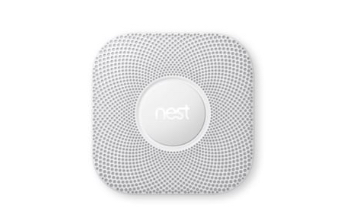 Nest
Rachio
It's time to expect more
Nest Protect has been redesigned from the inside out. It has a Split-Spectrum Sensor, tests itself automatically and lasts up to a decade. It's also the first home alarm you can hush from your phone without any extra hardware required. And it tells you what's wrong and can even alert your phone.
Room-by-room temperature
Most homes aren't the same temperature throughout. Maybe the living room gets too warm or the baby's room is too cold. With the Nest Temperature Sensor, you can let your Nest thermostat know which room should be the most comfortable room in the house.